Making a room reservation?
Please check the calendars below before completing a form. If a date is available, please complete the Book a Room form at least 24 hours prior to your reservation date. If you would like to reserve a room for the same day please call (715-536-7191) to ensure that the room is available.
The meeting room space is available during our open hours:
•  Monday – Thursday: 10am – 7pm
•  Friday: 10am – 5pm
•  Saturday: 10am – 4pm
If you are making a reservation outside of our open hours, please call the library at 715-536-7191 to make your reservation.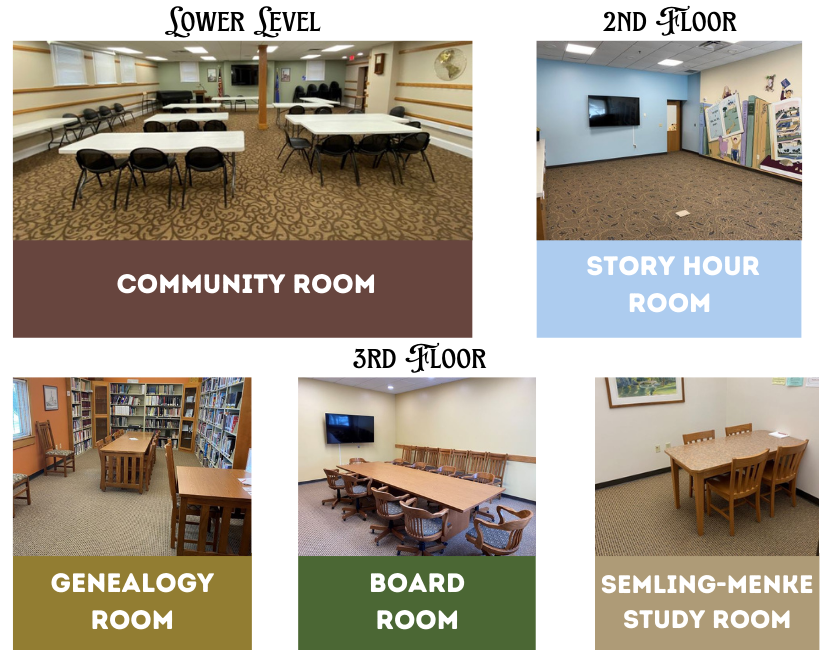 Community Room
Lower level
Capacity: approximately 75 people
Large mounted LED screen with wall mounted visual and audio connections
Hearing Loop
Kitchen with sink, refrigerator, & microwave is available
Story Hour Room
Youth Services Department, second floor
Capacity: 20 people
Sink is available
Genealogy Room
Adult Services Department, Third floor
Capacity: 10 people
Board Room
Adult Department, third floor
Capacity: 20 people
Mounted LED screen with wall mounted visual and audio connection
Sink and small refrigerator are available
Semling-Menke Study Room
Adult Services Department, Third floor
Capacity: 4 people